CURRENT EXHIBITION

Arcane Series | Lovers, Death, Star, Moon and Earth (David Bowie, Nov 1975; set of 5 hand-pulled silkscreen prints on Japanese paper)
BOWIE: From Major Tom to Major Arcana
6 January - 21 February 2020
arcane (adj.): understood by few; mysterious or secret
Masterpiece Art Ltd are delighted to introduce BOWIE: From Major Tom to Major Arcana.
Inspiration for the exhibition began with the discovery of an original full set of the Arcane Series – Lovers, Death, Star, Moon, Earth, five silkscreens after the tarot made by David Bowie in Los Angeles, November 1975.
First executed in an edition of 50, they were gifted by Bowie to family and friends and only made available to the public in the mid-to-late 1990s in a re-release of smaller dimensions as a far larger edition. As such, the large scale originals seen here today have not been exhibited publicly since David Bowie: New Afro/Pagan and Work 1975-1995 (London 1995), nor have they appeared often on the open market. Edition 25/50 seen here today was gifted to a RCA Records executive by Bowie in the late 1970s.
Most interestingly it seems that their true meaning was indeed secretive and arcane to its core. As such, Bowie offered little explanation to the series during his lifetime and their scarcity has meant little research has ever been undertaken.
Fascination and excitement grew as we realised the deep iconography behind the series, and their very personal connection to Bowie. This led us to collaborate with flagship "Bowie artists" such as those seen adorning the gallery walls currently – Brian Duffy, Tony McGee, Geoff MacCormack, Masayoshi Sukita, among others – themselves offering unique, intimate insight into the enigmatic life of David Bowie.
The imagery within the Arcane Series is powerful in its own right, full of colour with strong line and resonation. The hidden secret is in viewing them as a set as they tell an engrossing story which combines Bowie's song writing, esoteric exploration, private beliefs, paranoid-lows and unparalleled highs. Ultimately they suggest a chosen route along the Kabbalistic Tree of Life, a possible divination and mapped transcendence from Kether to Malkuth, and back to Kether – a complete journey of the soul to enlightenment.
As representations of the Major Arcana, the 22 trump cards of the tarot, we have Lovers, the 6th trump card; Death, the 13th trump card; Star, the 17th; Moon the 18th; Earth, the 21st. Combined they total seventy-five, 1975 being the year Bowie created the artworks and part of the broader spell that unravels in analysing the Arcane Series.
In various literature Bowie is repeatedly reported to have been deeply interested in "magick", and around 1975 actively practicing even. He had developed a firmly established interest in the occult and importantly for us here, Aleister Crowley (1875-1947), the famed and derided British occultist celebrated by many rock stars of the late-1960s and 1970s.
Irrespective of Crowley's reputation, he created an extremely popular tarot set, the Thoth Tarot, accompanied with an in-depth Book of Thoth that explained the mass of varied iconography behind the cards. Bowie is reported to have owned and been using these in 1975 and probably earlier, which explains the specifically Thoth Tarot imagery within the Arcane Series.
The same interests that created these artworks also inspired 'Station to Station' and The Thin White Duke. An interest in Crowley and Kabbalah is alluded to in songs from Hunky Dory LP. (1971) through to Station to Station LP. (1976), with Bowie's interest in Kabbalah arguably reaffirmed by his outfit worn in the video of 'Lazarus' (2016).
Many of the accompanying artworks have been carefully selected to show the David Bowie of Los Angeles and 1975, likewise his chameleonic aura from famed photoshoots. A wider selection of artworks from the exhibiting artists is available upon enquiry.
We invite you to discover more about the exhibition by reading the accompanying catalogue and speaking with the Masterpiece Art staff.
Featured artists include: David Bowie, Derek Boshier, Brian Duffy, Tony McGee, Geoff MacCormack, Terry O'Neill, Masayoshi Sukita and others.
Masterpiece Art is offering a donation from artwork and catalogue sales to support the Friends of the Children of Orissa, a charity who finances a boarding school for over 400 deprived or destitute girls in Orissa, one of the poorest states in India.
---
PAST EXHIBITIONs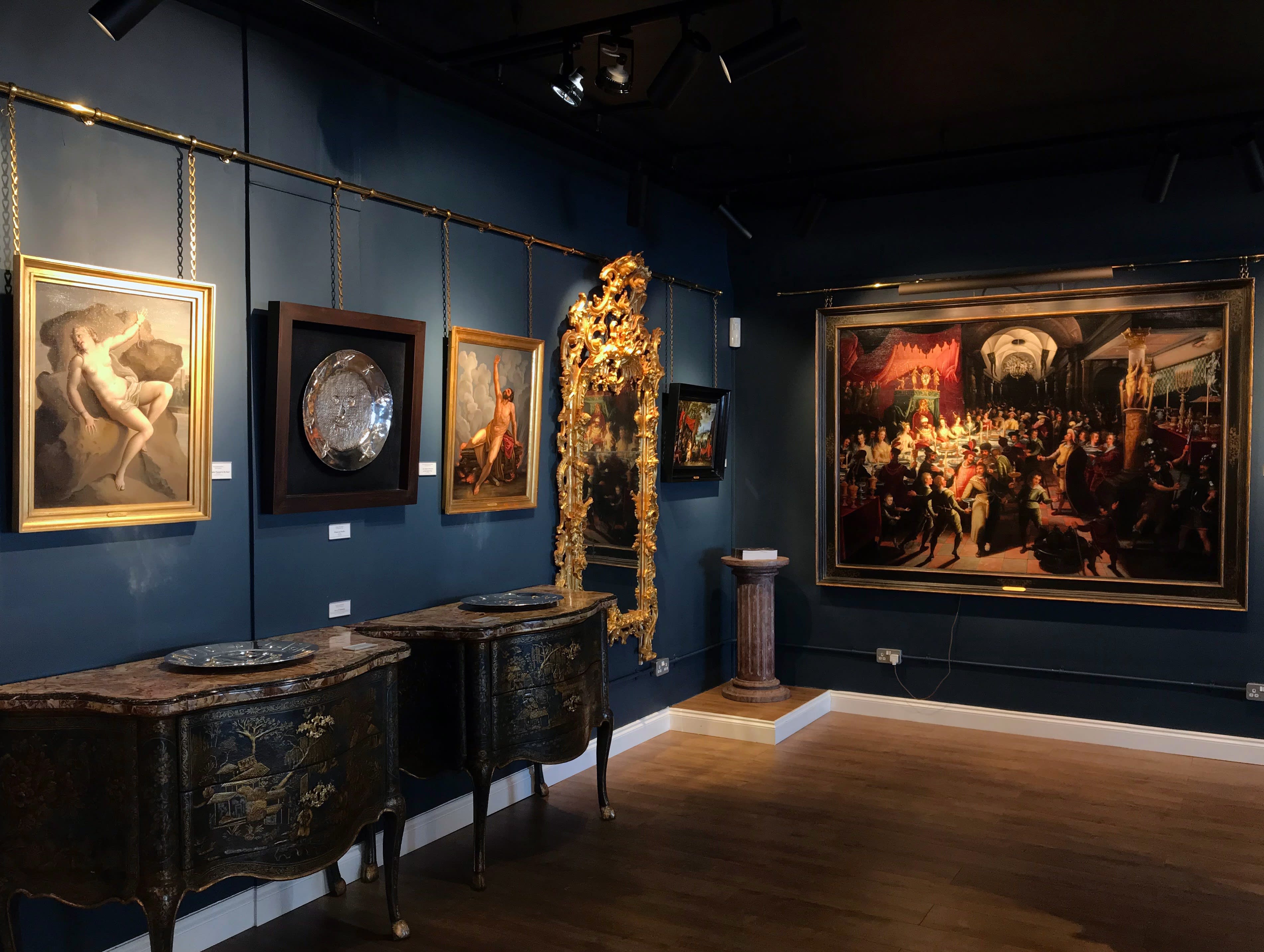 HIGHLIGHTS FROM THE MASTERPIECE ART COLLECTION
4 November – 18 December 2019
Highlights from the Masterpiece Art Collection showcases Old Master Painting, British 19th century painting, Impressionism, rare works in silver by Pablo Picasso, early work by Andy Warhol and Tracey Emin, contemporary editions by Leonard Cohen and much more...